Pins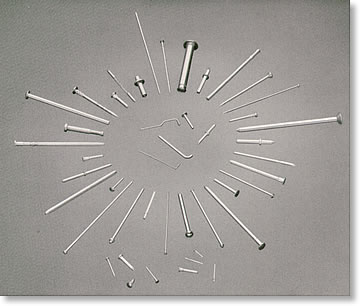 HIGH TECHNOLOGY ELECTRONIC AND WIRE WRAPPING PINS
Astro has a uniquely developed process called THERMAL SPLITTING, in which we electronically separate round or square wire to form smooth concentric tips on each end. This method allows our pins to have a lower insertion force when being assembled or coupled to a mating connector.
PRODUCT SPECIFICATIONS
•
Standard wire ranges: round or square wire
•
Diameter from 0.010" to 0.050" (0.25mm to 1.27mm)
•
Length from 0.150" to 3.00" (3.8mm to 76.2mm)
•
Standard wire materials:
Brass, phosphor, bronze, copper, beryllium copper and other alloys upon request.